Tips and suggestions The Cheerful Tourist is a travel advice site that you need to have close by when you are embarking on a new travel adventure. The team behind this concept is able to understand the needs of a tourist and thus harmoniously combines the useful with the pleasant. This is done through a series of extremely interesting articles that are worth reading!
Surely, with us, you will learn to be more responsible and attentive to details. These are often the difference between a successful experience and a failed one. Just like you, we are lovers of travel and adventure. We want to offer you, through information mediumunforgettable and hassle-free experiences in travel and holidays that you are going to have.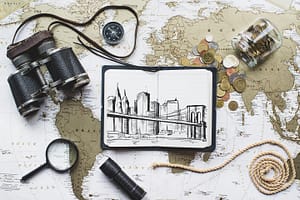 Tips and Suggestions The Merry Tourist - It is advisable to keep these travel tips in mind if you want to enjoy a successful holiday. It is not very difficult to choose the right tourist offer for you. If you also take into account these details, then you will surely always enjoy a successful holiday. You'll return to your daily activities energized.
A holiday is always welcome and to make the most of its benefits make sure you are informed. It is also important to plan well, so you will be able to reduce the risk of encountering all sorts of problems that can turn your holiday into a bad experience.
Tips and Suggestions The Merry Tourist
Thus, in addition to all the other categories that you can discover on the "Happy Tourist" website, we propose a special section that we have entitled "tips and suggestions". What can you find there? A multitude of articles with and about tourism that aim to inform and warn you about certain things that, we say, are vital to bear in mind when planning a possible holiday. The details are extremely important and although this may sound like a paradox they need to be considered in depth. Because we are always tempted, due to lack of time, to make plans "at sea".
(function(d, sc, u) {
var s = d.createElement(sc), p = d.getElementsByTagName(sc)[0];
s.type = 'text/javascript';
s.async = true;
s.src = u + '?v=' + (+new Date());
p.parentNode.insertBefore(s,p);
})(document, 'script', '//aff.bstatic.com/static/affiliate_base/js/flexiproduct.js');
Discover on the site solutions to various problems, situations or choices, introduced in articles with suggestive titles. We can recall "what is important to know in air travel". Or "when we can find the lowest airfares". Information about "ideal destinations for the sky", "what you need to know about tourism on the Romanian coast". Details on "offers and suggestions for car rentals", "how to choose a successful holiday". Or "what you should know before organising a holiday".
Tips on "how to choose your perfect holiday", "essential tips for a successful holiday", "how to find the best deals on accommodation and flights", "keep your home safe when you go on holiday". These are just some of the topics we cover in our articles. We offer free travel tips and advice that you can access anytime.
Choose a dream holiday with the tips and suggestions offered by the Happy Tourist!
We encourage tourism and want to add to your general knowledge. Information that you can assimilate and receive in the right way and that will make you more insightful and prompt in finding immediate solutions. As long as you are receptive and take on board the holiday tips and suggestions we instil in you, you can be sure that your next holiday will be full of success and experiences that are only good to tell your friends and family about. We wish you pleasant trips and holidaysrelaxing and free of unpleasant events!
(function(d, sc, u) {
var s = d.createElement(sc), p = d.getElementsByTagName(sc)[0];
s.type = 'text/javascript';
s.async = true;
s.src = u + '?v=' + (+new Date());
p.parentNode.insertBefore(s,p);
})(document, 'script', '//aff.bstatic.com/static/affiliate_base/js/flexiproduct.js');