Choose a dream mountain holiday in Romania, Bulgaria or Austria
Below you will find accommodation offers from booking.com. It is advantageous to opt for these offers proposed by booking.combecause:
you have a wide range of offers and discounts from over 20 million accommodation units;
you have the possibility to book and pay later;
accommodation prices are low, and you have the possibility to cancel your reservation;
you have at your disposal the most popular hotels, villas and pensions;
you can find luxury accommodation at a very good price;
you will make the best decision, thanks to the comments and reviews of tourists who have already visited these places;
the platform provides you with the information in Romanian and you will make the right decision.
Choose a dream holiday in the mountains, opt for the offers below:
In the mountains in Romania
In the mountains in Bulgaria
In the mountains in Austria
Didn't find what you were looking for? Use the form below to choose your dream holiday destination!
Individual mountain holidays
If you are looking for special offers with all inclusive and you want a dream holiday in the country or abroad, the best thing would be to be always aware of the many offers that we can always provide you!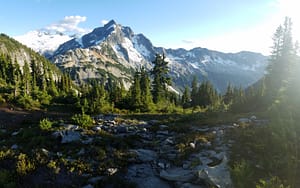 Holidays in the mountains are ideal for all those who want to relax, have fun and have fun with their loved ones! Choose a room type according to your preferences and have as much fun as you can!
Hallstatt is one of the most special and picturesque places in the world. It is located 100 km away from Salzburg, very close to Bad Ischl, on the shore of the Hallstattersee lake. If you are ever in the area, it is worth spending at least a day in this fairy-tale place. When you see the dreamy scenery, you'll really understand.
You can go up to the mine by funicular or take a boat ride on the lake. You will definitely have a great time visiting the ice caves and enjoying a walk in this picturesque village, where you will climb the paths or climb the steep cliffs.
You can enjoy a view like you've never seen before and enjoy a coffee feeling absolutely wonderful!
If you are tempted by a mountain holiday in Austria, you should know that this city, Innsbruck, is truly representative for Austria due to its fairytale landscapes and relaxing atmosphere.
Innsbruck is among the most important cities on the map of winter sports enthusiasts. As far as the ski area is concerned, it has no less than 6 slopes (Nordpark, Axamer Lizum, Patscherkofel, Glungezer, Stubai Glacier and Schlick 2000).
As far as traditional holidays are concerned, in Austria they put a lot of emphasis on Christmas. During this period the city is filled with lights, music and the pleasant hustle and bustle of the season.
You don't have to worry about accommodation deals, as there are plenty of all-inclusive special offers that will make you choose a holiday in this wonderful place!
It's impossible not to come home satisfied from such a getaway!
You can choose from a variety of all inclusive hostels and hotels to suit all tastes and preferences.
For a mountain holiday in Bulgaria, the Pamporovo region is a great choice!
It is one of the most sought after areas by winter sports lovers, as it is home to the superb mountain resorts of Borovet and Bansko, and to some of the most important ski areas.
In the fall season you can enjoy picturesque landscapes, ideal for all those who really love nature, trekking, hiking and cycling.
Pensions, villas and hotels offer high quality services at affordable rates for a dream holiday.
The quality of the ski areas, the many entertainment centers and the ski schools bring this Pamporovo region in the center of attention when it comes to an ideal holiday with family and children.
This kind of holidays will make you love the mountains even more, so take advantage of all these all inclusive offers!
Choose a room type according to your needs and preferences, including breakfast and transport!
You can even opt for a city break if you want something quick and impactful, a 2-3 day holiday is certainly something you would really like if you don't have more time available!
If every year you wonder where you will spend your next holiday and the decision is always a difficult one, it is best to direct your attention to a beautiful mountain getaway in Bansko!
Bansko is located right in the embrace of one of the most unique and beautiful mountains in Bulgaria - Pirin Mountain. Imagine waking up in the morning and the first thing you see is the blue peaks of this mountain, with the sun peeking shyly behind them.
The natural beauties that lie in the Pirin Mountains are so numerous that you will want to return to this area again and again. The possibilities for fun are diverse in this destination: from a picnic at a clearing above the town, to a walk with a waterfall, to another natural sight or a lake.
You can even travel to the neighbouring town of Dobrinishte and take the cable car up to the famous Bezbog peak! We assure you that once you step there, you will forget all your worries and all the stress of everyday life.
Bansko is a tourist attraction even in the summer season, as you can go down the longest water slide in Europe, shoot at the shooting range, play mini golf, learn to ride a horse, ride a mountain bike or enjoy a diverse range of beauty and spa procedures at the hotel you choose for your accommodation!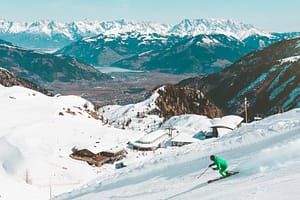 Choose one of the many offers available for Bulgaria because it is a country that has a lot to offer and will really convince you to come back again and again!
A mountain holiday in Romania is a great idea because we have an extremely beautiful country that always offers us the best tourist offers at an affordable price!
Busteni is the leading mountain tourism in the country. It is located in the eastern extremity of the Southern Carpathians, being a perfect place for rest, hiking and aplinism, of course.
The resort offers every season optimal conditions for holidays and vacations in a special mountain environment.
The resort is noted for its picturesque surroundings but also for the countless possibilities of practicing various forms of tourism, such as: mountaineering, mountain hiking, hut trips, winter sports.
In the resort you can find a cable car but also the Kalinderu ski slope and a Snow Park.
Busteni resort is an ideal location due to its location. In this place you can hike trails in the Bucegi Mountains.
You can choose a room type according to your preferences and one of the many offers available for an unforgettable mountain getaway!
Sinaia is one of the most special and beautiful mountain resorts in Romania and presents tourists with a rich social and cultural past. It is the former residence of kings who bear a saint's name, that of Mount Sinai, which was given for the first time to the Sinaia Monastery by Spatary Mihail Cantacuzino in the 17th century.
Enjoy a mountain getaway in the Pearl of the Carpathians and don't forget to enjoy winter sports, skiing, sledding, boarding or simply enjoying the breathtaking scenery!
Even in summer this beauty of nature invites you to go hiking in the forest, mountain biking, off road adventures or cycling trips with all your loved ones!
If you need some moments where you can feel good, unwind from stress and forget about worries, the best idea is to choose a high quality offer!
Whatever the season, this resort is steeped in history and awaits you to discover its treasures: Pelisorul, Pelesul, Sinaia Monastery - these are just some of the special and emblematic places you should not miss! From Sinaia you can easily reach other superb tourist locations: Rasnov, Bran or Sighisoara, so whether you stay three days or a week, you will not be bored at all!
Choose one of the many offers that will provide you with plenty of interesting activities so that you can enjoy an ideal holiday, whether you are on a romantic stay or a family holiday.
Among the hundreds of offers, choose one that will send you directly to Predeal, Prahova Valley. This is a modern ski destination and is worthy of all tourists' attention for its high quality service, optimal ski conditions and countless offers with great rates.
The slopes in Predeal are well equipped and very accessible by cable car. Tourists who are fond of skiing or other winter sports have at their disposal slopes in Predeal for various levels of difficulty: for beginners, advanced and experts.
The slopes in Predeal suit every tourist and are diversified, as there are several segments for: snowboarding, night skiing, cross-country, etc.
The famous destination Poiana Brasov has the longest ski slope in Romania, with a length of 5 km.
If you come to Poiana Brasov and you like winter sports, you have come to the right place. Here the snow cover remains even 4-5 months a year. In Poiana there are 12 slopes, suitable for beginners and experienced skiers.
You can choose the Tree Party which has an easy difficulty level or Stadium.
In this area you can also take horseback riding courses, leisure rides, by carriage, sleigh or sleigh, as well as some horseback excursions.
Brasov is considered one of the most special and beautiful cities in Romania. So, don't miss a walk through the old centre on the narrowest street in Europe.
If you want some deals for the United Arab Emirates, you should inquire early about great offers for this dream place!
The UAE is known as the land of the merchants. For a successful getaway with your loved ones, all you have to do is keep up to date with travel offers!
Whether you want to go to the mountains of Romania or spend a holiday in Italy, Greece, Egypt, Turkey, Spain or France, the important thing is to choose a hotel you like in advance. Check more information on the internet about discounts, other destinations, holidays and more!